Welcome to St. George's Church, Jesmond
We are your local Church of England (Anglican) church, part of Jesmond life since 1888, with a congregation from the locality, the city and the region. We aim to be friendly, diverse and to welcome all in Christ's name. Our worship is inclusive and in the catholic tradition, with high quality music. If you are new to this area, or would like to find out more, please get in touch.
We welcome all in Christ's name.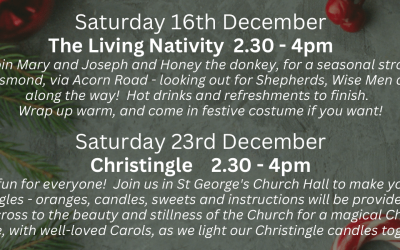 We have a number of family-friendly events coming up at St George's this Christmas: The Living Nativity: Saturday 16th December, 2.30-4pm. Join Mary and Joseph and Honey the donkey for a seasonal stroll around Jesmond, via Acorn Road - looking out for Shepherds, Wise...
read more
We, along with our sister church St Hilda's, are looking for a new vicar! The post is now being advertised and is open for applications, full details on the diocesan website - https://newcastle.anglican.org/priest-to-the-benefice-of-newcastle-st-george-st-hilda.php.
read more
Follow us on Social Media.